Mayor's Blog
Dear Residents,
As we celebrate the anniversary of our Nation's birth, I feel honored and privileged to be Mayor of a city with such an extraordinary history, a city that's one of the most diverse in the Commonwealth, and a city that's on the move. When our forefathers told their representatives in the Continental Congress their desire that America become a free and independent republic and that they would support and defend the measure "to the last drop of their blood," Malden became a significant part of our Nation's history. On May 27, 1776, the communication from the inhabitants of the "town of Malden" actually became a precursor to the Declaration of Independence. Strong Past, Proud Future is a motto that truly defines us as we work together to make this City better, stronger and a more desirable place to live and work.
Have a safe and happy Independence Day and see you at the parks!

Hear Ye! Hear Ye!Malden July 4th Celebrations
Malden will kick off Independence Day with a series of exciting events at the Malden Public Library, 36 Salem Street on Friday, June 30th.
From 4 to 5 PM in the Converse Memorial Building, the Library will display the original and the newly digitized version of Malden's town records from the Revolutionary war period. Featured will be the May 27, 1776 document entitled "Instructions of the Inhabitants of Malden, Massachusetts to their Representatives in Congress" unanimously voted on by the townspeople of Malden to be delivered to the Second Continental Congress via their representative Ezra Sargeant. In the 1776 communication, the voting citizens of Malden renounce the Colony's ties to the Kingdom of Great Britain and set forth their wish to become an independent "American" republic. The document is credited as a precursor to the Declaration of Independence written in July of 1776 when the Continental Congress formally declared their independence from England. At 5 PM attendees will proceed to the front lawn where Local Historian and period actor Tom Coots will perform the Second Annual Reading of the "Town Instructions."
Ward July 4th celebrations will be posted to the City website as they are scheduled, to learn more
click here
.

Malden Celebrates the 4th of July
Saturday, July 1st

Ward 6 will be celebrating from 9AM-1PM @ Trafton Park, on Granite & Jacob Streets

Sunday, July 2nd

Ward 4 will be celebrating from 9AM-1PM @ Coytemore Lea Park, on Clifton Street
Ward 7 will host a Pre-Celebration from 12Noon-4PM @ Suffolk Manor

Monday, July 3rd

Ward 1 & 2 will host an Outdoor Movie Night @ Green Street Park

Tuesday, July 4th

Wards 1 & 2 will have their celebration from 9AM-1PM @ Devir Park, on Fellsway & Malden Streets
Ward 3 will have their celebration from 9AM-2PM @ Amerige Park, Fellsway East & Highland Avenue
Ward 5 will have their celebration from 9AM-1PM @ Forestdale School Park, on Sylvan Street

Ward 7 will have their celebration from 9AM-1PM @ Lincoln Commons, on Cross Street

Ward 8 will begin festivities at 8:45AM @ Linden School Park, on Salem & Westcott Streets
To read a more about what will be offered at these events click here.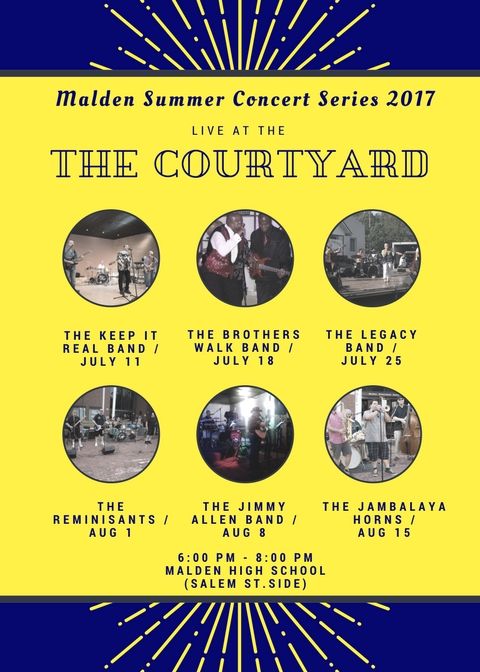 Summer Concert Series 2017
The Malden Summer Concert Series returns this year starting in July. Due to ongoing construction at 200 Pleasant this year's concerts will be held at the Malden High School courtyard on Salem Street from 6 - 8PM.
July 18th - The Brothers Walk Band

July 25th - The Legacy Band

August 1st - The Reminisants

August 8th - The Jimmy Allen Band

August 15th - The Jambalaya Horns

PROJECT UPDATES IN THE CITY
200 Pleasant Street - formerly City Hall & Police Station
If you have been anywhere near the downtown recently, it is difficult not to notice that the removal of the City Hall building 200 Pleasant Street is well underway! Sandi Silk, Senior Vice President of Jefferson Apartment Group anticipates that the buildings will be down by the end of August. The team at Callahan Construction is working hard to get us to the next step in the City's longstanding goal of revitalizing Malden Center. For photos of the demolition,
click here
. For a video of demolition in action,
Click here!
____________________________________________________
South Cove Community Health Center - formerly Malden Evening News
In the last couple of weeks, Mayor Christenson, City Council President Peg Crowe and members of the Malden community participated in a groundbreaking for South Cove Community Health Center. This officially begins the remodeling for a new clinic at 277 Commercial Street, the location of the former Malden Evening News. South Cove Community Health Center has been exploring the possibility of opening a clinic in Malden for some time. Having the third largest Asian population after Boston and Quincy, South Cove aims to offer valuable services to existing patients, as well as reach out to others who will benefit from the accessible and affordable quality healthcare provided by a local community health center. When complete, the re
modeled one-story clinic will have over 14,000 square feet, and will offer 76 parking spaces. It will provide internal medicine, obstetrics and gynecology services, pediatrics, optometry services and laboratory care, along with a team of social services staff whose primary job function will be to help patients obtain federal and/or state health coverage. The facility is being designed by Beacon Architectural Associates and construction work has been contracted to Bond Construction. South Cove Community Health Center is aiming for a December 2017 opening.
For more information about South Cove Community Health Center, please visit
www.scchc.org
.

__________________________________________________
Forestdale Park- formerly McFadden Manor
Mayor Gary Christenson and City Councillor Barbara Murphy recently participated with Volunteers of America (VOA) President and CEO Thomas Bierbaum, and local and City officials for a sneak-peek at the progress of Forestdale Park Assisted Living and Memory Care Facility. Forestdale Park is located at the former site of the longtime vacant City-run nursing home known as McFadden Manor, 341 Forest Street. Under construction are 59 studio and one bedroom units, 18 units for residents needing memory support and three traditional senior housing units that offer varied levels of independent and assisted care. The long-time vacant property is historically significant given that it was once the Malden "poor-farm," a refuge that provided food and shelter to those unable to provide for themselves and their families. In 1955, the farm evolved into the City run McFadden Manor Nursing Home. The nursing home closed in 2009 and fell into deep disrepair.
Project Developer VOA, a non-profit organization dedicated to serving those most in need, and those facing multiple challenges stepped up to the task. VOA has invested $28 Million to restore the property and reopen it as an assisted living facility that will be managed by Senior Living Residence of Braintree. VOA provides comprehensive programs for veterans, at-risk youth, adults and youth in recovery from addiction, elders and those in need of mental health treatment.

The facility is scheduled to open early in 2018. For more information or to make a reservation, please contact info@forestdalepark.com or call 781-333-8903.

___________________________________________________
295 Canal Street - former Acme Canvas Building
Combined Properties has begun construction on a first class office building on the Malden River. Located at the corner of Canal and Medford Streets, this location is the site of the former Acme Canvas building which had been vacant for nearly 20 years.
The 55,117 square foot five story structure will house offices with the first floor being comprised of office and retail space. There will be 178 parking spaces. The building is located adjacent to the Northern Strand Community Bike Trail and offers outstanding pedestrian accessibility to Malden's downtown retail and restaurants.

Recent Increase in Air Traffic over Malden
Recently, the City of Malden has received a large volume of calls, complaints and questions from residents about the unacceptably low, loud and frequent airplane noise over Malden. After making inquiries to our State Legislative Delegation, we learned that a resurfacing project on one of Logan Airport's two international runways is currently underway. Due to this project, an alternate runway has international flights flying over Malden, Medford and Somerville. The project began in early May and will continue through the month of June and is expected to be completed (weather permitting) by the beginning of July. We have been in touch with MassPort, who is overseeing the project and they recommend that residents call them at 617-561-3333 as they are interested in hearing from residents directly.

Candidates for Public Office - Nomination Paper
Timeline
To run for elected office, City Council or School Committee candidates must first obtain nomination papers. Below are important dates:
Friday, July 28th - Last Day to Obtain Nomination Papers
Tuesday, August 1st - Last Day to Submit Nomination Papers to the Registrar of Voter's Office for Certification

Tuesday, August 15th - Last Day to File Certified Nomination Papers with the City Clerk's Office

Thursday, August 17th - Last Day for Filing Withdrawals from nomination for the Preliminary or Objection to Nomination

Wednesday, August 30th - Close of Registration for the Preliminary
For more information click here or call the City Clerk's Office at 781-397-7116.

88th Annual Grande Festa in Honor of San Rocco
The Saint Rocco Fraternal Society of Malden will hold its 88th Annual Feast of St. Rocco on August 11th, 12th and 13th on Pearl Street in the Edgeworth Section of Malden. In 1929 the annual Feast became a three-day event to raise money to provide death benefits to families who lost their loved ones during the year. The tradition continues today and is comprised of over 30 men and women dedicated to the work of St. Rocco, patron of illness. All funds raised are donated to local food pantries and non-profit organizations not affiliated with any religious organization.
Come and enjoy this traditional celebration of music, food, games, and laughs.
The Feast will take place from 6PM-11PM on Friday, August 11th and on Saturday, August 12th, and 1PM-9PM on Sunday, August 13th.
T
o learn more about the feast
click here
. To contact the Saint Rocco's Feast Association of Malden please email stroccomalden@verizon.net.

Malden Overcomes Day
Malden Overcoming Addiction is hosting a day that will give back to the community. On August 19th MOA invites Malden residents to Lincoln Commons from 10AM to 2PM for a day of food, fun, and activities. For more information please visit www.maldenovercomingaddiction.com or visit their Facebook page here. To view the Facebook Event page click here.

The MBTA is offering a discounted Charlie Card to all who fall under one of these two categories: Malden Residents 12-18 years of age who is not enrolled in a Middle or High School or Malden Residents 19-25 years of age who are enrolled in a State/Federal Benefits Program and/or enrolled in a Job Training or Education Program. To see the full list of programs that qualify click here.
The Youth Pass's hours are on Tuesdays between 12:30PM-7PM, at 17 Pleasant Street, 4th floor.
For more information please contact Jeri Scibelli at 781-397-7000 x2001 or jscibelli@cityofmalden.org.

Malden Senior Center to Partner with Medford Council on Aging

We are excited to announce that the Malden Senior Community Center is partnering with the Medford Council on Aging/Medford Senior Center to offer trips to our seniors. For complete details about the trips hosted by the Medford Senior Center, including participant responsibility, please call 781-396-0377. A comprehensive Trip Policy outline is posted at the Medford Senior Center and copies are available upon request. Tickets must be purchased at the time of reservation and are non-refundable. Payments must be made in cash or by check payable to the Medford Senior Center. Parking for day trips will be available behind the Hyatt Hotel on Riverside Avenue where there will be a trip escort. Please call the Medford Council on Aging office with any questions.
To read the complete Malden Senior Center Monthly Newsletter click here.

Yard Waste Pick Up in Full Swing
Yard Waste must be placed curbside on your scheduled trash pick-up day in brown paper bags or in barrels marked "yard waste" and must be separated from regular rubbish. Yard waste that will be accepted includes leaves, grass clippings, and twigs. No branches, logs, or dirt will be picked up.
Collection occurs seasonally between April and November during designated weeks on your trash day. To find out your specific yard waste collection days, search your address on our trash app by clicking here. You also have the option of signing up to get alerts on your phone that will remind you about trash and yard waste collection.
For additional information, contact the Department of Public Works at 781-397-7160.
| | |
| --- | --- |
| | |

Neighborhood Street Sweeping Notification
Street sweeping has begun and will continue through November 1st. This year we are introducing a new service. Visit
www.cityofmalden.org/streetsweeping
to enter your address and choose how you want us to remind you about your sweeping day. Options include; email, phone, text and Twitter. You can also print a personalized calendar or import the calendar into most calendar programs.
Points to remember:
On-street parking is NOT allowed on your regularly scheduled street sweeping day before the sweeper has swept your street. Violators are subject to a fine. Please note this rule will only impact one side of the street at a time so refer to the "odd/even side sweeping" schedule. Once the sweeper has swept your street, parking may be resumed.
Neighborhood Street Sweeping will take place between the hours of 7:30 AM and 12 Noon.
On regularly scheduled street sweeping days, residents are encouraged to sweep debris and sand from their sidewalks into the street for the sweepers (no leaves please).
To use our new app to find your Neighborhood Street Sweeping Schedule click here.
For additional information, contact the Department of Public Works at 781-397-7160.

Malden Community Hub
Malden Community Hub is a resource provided by the City of Malden to allow community members to post events, causes, fundraisers, activities, sports, etc.

You must submit your event at least 2 weeks in advance to ensure that it will be published in time for promoting the event.

To fill out the form click here.
After approval, we will place your message on our Malden Community Hub Facebook page
located here
.

SeeClickFix Ticket Spotlight
Periodically, we like to highlight certain issues that were resolved using ou
r resi
dent issue reporting system known as SeeClickFix.
In a recent ticket, Ticket
#3516476
, a resident reported that the chain link ladder in the Devir Park playground was broken and hanging down. Public Works was able to fix the issue the next day.
If you haven't done so already, please sign up or download the mobile app
here
so you can start reporting issues
here
.
4th of July Reading of Town Instructions
Friday,
June 30th
5 PM
Library
Outdoor Movie Night
Monday, July 3rd
Green Street Park
Strike Out Addiction
Saturday, August 12th
12Noon-4PM
Devir Park - Bruce Field
177 West Street
Malden Overcomes Day
Saturday, August 19th
10AM-2PM
Lincoln Commons